Australia's new stock exchange Chi-X starts operations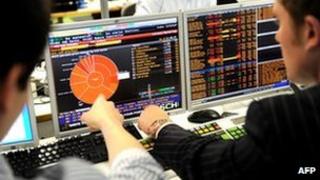 Australia's stock exchange is facing upheaval with the breaking up of a two-decade old market monopoly.
From Monday, 31 October, the Australian Securities Exchange (ASX) that turns over up to $6bn Australian dollars ($6.4bn; £3.9bn) in stocks each day will face competition from Chi-X, a Japanese-owned enterprise.
The newcomer has made positive in-roads elsewhere, claiming 20% of the market in Europe and 9% in Canada, and is promising that its low-cost approach will shake-up the way stocks are traded in Australia.
"Everyone is very keen and anxious to see competition," Chi-X's chief operating officer Peter Fowler told Australian television.
"We think it's long overdue in the Australian marketplace and that we'll see competition as it's already done, it'll drive down prices, it'll improve service levels and generally be healthy for the Australian market."
'A progressive thing'
The platform will have a gentle start on its opening day where just eight blue chip stocks, including mining super power BHP Billiton and bio-pharmaceutical giant CSL, will be traded to make sure its systems work.
When Australia's regulators are happy, Chi-X will then offer the entire catalogue of 200 companies listed on the ASX.
Chi-X is a consortium backed by global financial titans, including Japanese investment bank Nomura, Goldman Sachs and Bank of America.
Having friends with such full pockets is giving the new exchange confidence that its Australian adventure will be productive, although senior managers say that patience will be the key to success.
"We don't think it's going to come overnight; it's going to be a progressive thing," added Peter Fowler.
Chi-X fees will be 40% lower than the ASX. Its low-cost approach has helped it seize market share from incumbents in Canada, Europe and Japan.
But Richard Gibbs, the global head of economics at Macquarie Group in Sydney, says cheaper subscriptions are only part of the story.
"It is not just about being lower cost, although that is an important feature of it, but importantly it is also about opening up the globalisation that is going on," he told the BBC.
"Where we are moving to with this is the capacity for Chi-X and other exchanges around the world to be able to offer a global platform." he added.
"That is to say that global traders, brokers and investors will be able to work across time zones and national borders with one clearing house and one trading platform."
Ending monopoly
The ASX has had a monopoly since six state-based exchanges merged in Australia in 1987 but now this capitalist fortress has a rival.
Richard Gibbs is expecting the competition to have positive results.
"It will make a difference. I think it will add to operating efficiency and transparency, and that certainly is the hope of the regulators." he says.
The ASX says it's ready for the challenge from its foreign-owned competitor.
It has reduced its transaction fees and believes technological upgrades will give it an edge, although the national exchange was embarrassed when a collapse of its systems in Sydney last week left traders staring at blank computers for four hours.
It was bad timing because consumers will now have more choice.
However, Jonathan Barratt, the managing director of Commodity Broking Services, thinks it will take time for the new bourse to make its mark.
"The Chi-X exchange will offer a cheaper alternative to the ASX. It is a mirror rival providing more opportunity in terms of cost savings and it is a more low-cost execution for the market." he tells the BBC.
"The biggest challenge is consumer confidence and getting consumers to back it,"