Russia closing on WTO membership, says Kremlin aide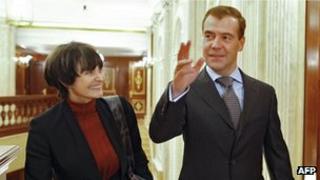 Russia has said it hopes to resolve soon all outstanding differences with Georgia concerning its entrance to the World Trade Organisation (WTO).
President Dmitry Medvedev met with Swiss Foreign Minister Micheline Calmy-Rey, whose country is mediating talks between the two, on Sunday to discuss progress in accession talks.
A presidential aide later said final agreement may be reached within hours.
Russia first applied to join the WTO 18 years ago.
It is the only major economy that is still not a member of the global free trade club.
'No major issues'
Following the talks with the Swiss president, presidential aide Arkady Dvorkovich said: "There are a number of issues that require clarification," the Russian news agency Interfax reported.
"[Our] Swiss counterparts, who are going to travel to Tbilisi today, will raise them with the Georgian side.
"We hope that all the issues will be agreed upon in the next few hours - there are no major issues, but some aspects require clarification."
Last week, Georgia accepted in principal mediators' proposals for Russia's entrance to the WTO.
Membership to the trade group can only be gained once agreement has been reached with all interested parties, and so far Georgia has vetoed Russia's entrance.