Qantas boss's risky strategy to refocus airline on Asia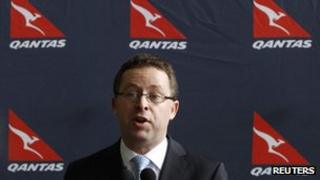 Even though Qantas was privatised in 1990, it remains very much a national flag carrier for Australians who pride themselves on its safety record and service levels.
Behind the slick marketing though is a 20th century airline in a 21st century environment.
The legacy issues of being a former state-owned airline which have plagued European flag carriers such as British Airways have yet to be dealt with at Qantas.
Wage costs are higher than the industry standard for ground and cabin crew staff, servicing contracts expensive and pension entitlements unaffordable in the long run.
Qantas is also a Pacific-based company trying to refocus on Asia as opposed to its older traditional markets in the North Atlantic.
The CEO, Alan Joyce, has seen a path to a more profitable economic future in its spin-off airline Jetstar, which is considerably more lucrative than its parent.
That's because Jetstar Group, based in Singapore and Vietnam, employs cheaper Asian staff and ancillary support services such as leasing and engine maintenance.
With a new, wealthier middle class emerging in China and South East Asia, Qantas now wants to tilt in that direction and that has angered unions, which accuse the company of wanting to destroy the brand and replace their members with cheaper labour.
That has led to months of smaller disputes by Qantas's baggage handlers, engineers and pilots which the company says costs them £10m a week.
Saturday's announcement to ground the airline's worldwide fleet and lock out staff from Monday is an attempt to bring that dispute to a swift end.
However, CEO Alan Joyce has bet the future of the entire company on grounding an old airline in order to give birth to a new one.
It's a gamble which may backfire on both him, his shareholders and Australia's corporate reputation.