Qantas dispute grounds UK flights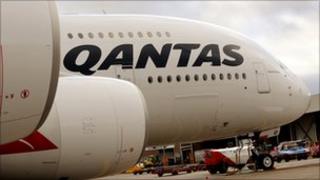 Hundreds of UK-based passengers have had their travel plans disrupted by an industrial dispute at the Australian airline Qantas.
Qantas grounded its fleet on Saturday and plans to lock out staff on Monday.
Four flights were cancelled, stranding more than 1,000 passengers including some who bought tickets to Australia from British Airways.
One passenger, who caught a flight on Friday, told the BBC he was stuck in Hong Kong because of the dispute.
The airline's actions to ground all its international and domestic flights has caused major disruption around the world.
Passengers who left before the announcement have also been affected.
Briton Andy Butcher who flew out of Heathrow Friday evening is now stranded in Hong Kong after his Qantas flight made a scheduled stop.
"The first we knew about this was when the pilot asked the passengers to support their dispute as we came into land," Mr Butcher told the BBC.
It was more than a hour before he and his partner were told there would be no onward flight. Qantas staff were nowhere to be seen and there was little information, he added.
The company's website advises passengers not to travel to airports and that refunds will be available for all cancelled flights. A statement by Qantas said all those involved in the strike would be locked out from Monday evening and flights grounded on Saturday.
British passengers affected
Qantas shares flights with British Airways and Iberia through the One World alliance - so passengers with these airlines may also be affected.
Under what is called a code share arrangement, passengers may have bought a BA coded ticket but were due to fly on a Qantas plane and therefore will not be flying because of the dispute.
"British Airways-operated flights between the UK and Australia are not expected to be disrupted at this time," a BA spokeswoman said.
However, she urged customers who are booked to travel on a BA service operated by Qantas to check the status of their flight and advised any passengers travelling in the next 24 hours to contact BA's call centres.
BA will be allowing all its customers booked on BA tickets but flying on Qantas operated flights to reroute, rebook or refund their tickets up to 31 October.
BA operates three flights a day to Australia. Qantas has four.
BBC News business correspondent Joe Lynam said the unilateral lock-out was the first for a listed airline.
"It is unprecedented and a seriously drastic move" costing Qantas £13m a day, he said.
The unions and management are involved in a long-running dispute over restructuring and outsourcing.
The company's chief executive, Alan Joyce, called his own decision "unbelievable" while the head of the Australian pilots association, Barry Jackson, said: "It's unprecedented and really it has hijacked the nation. It really has put everyone on notice and...it's forcing the government's hand on this."
The airline has accused trade unions of "destabilising the company" and said Qantas staff would stop being paid on Monday.
The British Airline Pilots' Association said the move was a "major escalation" and "no way to deal with industrial relations and certainly will be a major inconvenience for passengers".
"Employees have been naturally concerned about their futures under the airline's restructuring plans and have sought reassurances as well as making concessions."
Qantas was privatised in the 1990s but the Australian minister for transport, Anthony Albanese, said the government would take action to intervene in the dispute.
He said: "We are very concerned about Qantas' actions, of which we were notified only mid-afternoon, with no advance notice from Qantas at any stage.
"The government is making an urgent application to Fair Work Australia to terminate all industrial action at Qantas. This will be aimed at both actions by unions and by Qantas management."