US consumers reduce saving to boost spending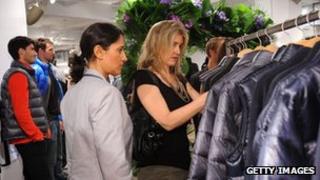 Consumer spending picked up in September, funded by a reduction in savings.
Personal spending rose 0.6% to $68.7bn (£42.7bn) in the month, having risen 0.2% in August, according to figures from the Commerce Department.
Incomes only rose 0.1% in the month, so the spending had to be funded by saving, which fell to 3.6% of income, the lowest level since August 2009.
Consumer spending accounts for 70% of US economic activity.
"Very weak income, but very solid consumption even, though consumer confidence is in recession. So that's good news for the economy," said Kurt Karl, chief US economist at Swiss Re in New York.
"[But] it's hard to sustain without more income growth."
Income growth is being limited by high unemployment, with a jobless rate above 9% for five consecutive months.
In a separate report from the Labor Department, wages and salaries expanded 0.3% in the third quarter of the year - the equivalent of 0.1% per month - having gained 0.4% in the second quarter.