Saab signs deal to be bought by Chinese firms for £88m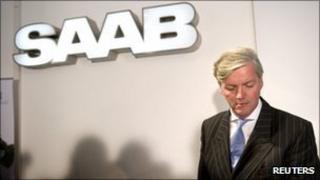 Cash-strapped Swedish carmaker Saab has signed a deal to be taken over by two Chinese firms for 100m euros (£88m).
The company signed a memorandum of understanding with Pang Da and Youngman, having previously rejected takeover offers from them.
Saab is currently in court trying to stave off bankruptcy.
The agreement is valid until 15 November, as long as the Swedish carmaker stays in voluntary reorganisation in court.
"An important consideration for Swan to enter into the transaction is the commitment of Pang Da and Youngman to provide long term funding to Saab Automobile," parent company Swedish Automobile said in a statement.
"Pang Da and Youngman will invest way more than the 240m euros we had planned to invest, so Saab has now got the funding, the stability and the product portfolio it deserves," said Victor Muller, Saab's chief executive and majority shareholder in Swedish Automobile.
Job done
As a result of the deal, Guy Lofalk, Saab's administrator, has withdrawn his application to the Swedish court to halt the firm's reorganisation process.
The administrator had previously said it lacked the cash to carry on.
If the court had agreed to the request, Saab would have almost certainly been declared bankrupt.
Thousands of Saab employees and suppliers that had called for the bankruptcy are now expected to be paid the money they are owed.
Swedish Automobile, formerly called Spyker, bought Saab from US giant General Motors in January 2010.
"My job was to save the company," said Mr Muller.
"I think I achieved it."