Chevron and Total see profits jump on higher oil price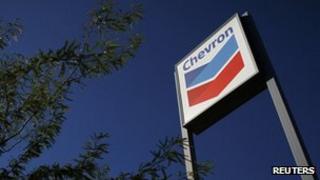 Oil giants Chevron and Total have reported sharp rises in third quarter profits, in line with other global oil and gas giants.
Chevron saw net profit more than double to $7.8bn (£4.8bn) in the three months to the end of September, against a year earlier. Sales rose sharply to $61.3bn.
Total's net income rose 13% to 2.8bn euros ($4bn; £2.5bn), with sales rising to 46.2bn euros.
All major oil and gas companies have benefited from higher oil prices.
On Thursday, ExxonMobil and Royal Dutch Shell said higher gas and oil prices pushed up profits.
'Favourable conditions'
"We had another successful quarter, with both strong earnings and cash flow," said Chevron's chief executive John Watson.
"Current quarter earnings for our upstream operations benefited from higher crude oil prices on world markets."
France's Total said the outlook for the rest of this year was positive.
"The group begins the fourth quarter confident in an environment where conditions remain favourable for the upstream and refining margins are slightly improved," it said a statement.
However, shares in the company fell 1.9%, as it said hydrocarbon production had slipped 0.9% because of disruptions from the civil war in Libya.
On Thursday, Anglo-Dutch rival Shell reported that profits doubled to $7.2bn in the third quarter, compared with $3.5bn during the same period a year ago.
At Exxon, meanwhile, profits increased by 41% to $10.3bn.