Italy sells bonds at record high of 6% at auction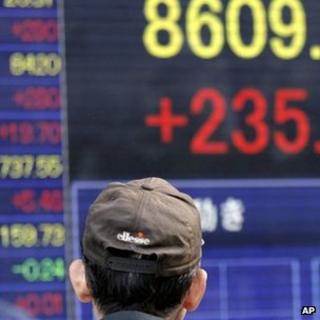 Italy's cost of borrowing has reached a record high, despite the deal reached to contain the eurozone debt crisis.
Italy paid 6.06% to borrow for 10 years at an auction on Friday, the most since the euro was created in 1999.
The rate jumped from 5.86% - the previous record high - at its last auction a month ago.
The auction came as stock markets failed to follow up on their global rally on Thursday, with shares in many European banks turning lower.
An interest rate of 6% and higher is generally considered to be unsustainable.
The Italian Treasury also failed to meet its borrowing target, having hoped to sell as much as 8.5bn euros ($12.1bn, £7.5bn) of bonds.
They only sold 7.9bn euros of the 10-year benchmark debt.
Italy concerns
Italy has the highest total debt in the eurozone, amid stagnant growth.
But Italy has the advantage of having most of its debt owed to its own people rather than external investors. This buys it more breathing room than, say, heavily-indebted Greece.
Losses on the Italian stock market increased after the auction results were announced.
On Thursday, eurozone leaders agreed to expand the single currency's bailout fund to 1tn euros, and to take measures to recapitalise banks.
Under the terms of the Brussels deal thrashed out by EU leaders, banks must raise more capital to protect themselves against losses resulting from any future defaults.
At the same time, some banks accepted a loss of 50% on their Greek debt.
Stock reaction
Earlier, banking stocks such as Barclays and Royal Bank of Scotland rose for the second day. But they turned lower as the trading day went on.
"The best we can say is that the EU have engineered a temporary reprieve but there is no guarantee of a final resolution to the crisis," said Neil MacKinnon of VTB Capital.
Lloyds Banking Group closed down 5.2%, Barclays fell 4.2% and RBS dropped 3.6%.
In Germany, Commerzbank lost 4.3%.
However, French banks ended the day higher, with Credit Agricole climbing 3.7%, BNP Paribas gaining 3.5% and Societe Generale rising 1.7%.