Thailand slashes growth forecast as floods hurt economy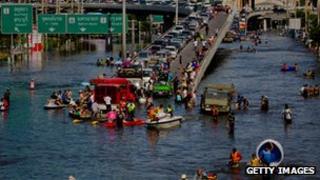 The Bank of Thailand (BOT) has slashed its growth forecast for the current financial year after the country was hit by its worst flooding in decades.
The central bank cut its forecast to 2.6% for 2011, down from an initial projection of 4.1% growth.
The floods have affected one third of all provinces in the country and forced several industrial estates and factories to shut down.
The BOT kept the interest rate on hold at 3.5% in a bid to boost growth.
"The downward revision in gross domestic product (GDP) forecast was expected, given the severe damage dealt to the manufacturing, agricultural and services industry," said Penn Nee Chow of UOB Bank.
"And with Bangkok now more than likely to be flooded, vital financial and other services, as well as tourism will be dealt a blow." she added.
Economic impact
Authorities have warned the floods may last for another four to six weeks. Heavy flooding has forced almost 1,000 factories to shut down.
Last week the central bank said the damage to industry may be more than 100bn baht ($3.3bn; £2.1bn).
"In terms of flood impact on factory output and business sectors, it seems like capacity utilisation for October will be very low," said Rahul Bajoria of Barclays Capital.
"A drop in industrial production to the tune of 15%-20% month-on-month cannot be ruled out." he added.
To make matters worse, Yingluck Shinawatra, Thailand's prime minister, has said it may not be possible to protect the country's capital Bangkok from flooding.
Bangkok contributes almost 41% to the country's GDP, and analysts have warned that any substantial damage to the capital may hurt growth even more.
'Difficult to justify'
The central bank also cut its growth forecast for 2012 to 4.1% from 4.2%.
However, some analysts said that they were surprised by the bank's move to cut its projection for the next year. They said reconstruction and rebuilding efforts after a natural disaster generally boost economic growth.
"Trimming 2012 GDP, even if by just 0.1 [percentage] point, is difficult to justify. A sharply weaker 2011 would point to faster growth in 2012," said Ramya Suryanarayanan of DBS Bank.
At the same time, the central bank cut it forecast for inflation for 2012 to 3.8% from 3.9%.
Ms Surayanaryanan added that the 'dovish comments' by the central bank were an indicator that it may cut interest rates going forward.