China's Baidu sees profits surge 80% in third quarter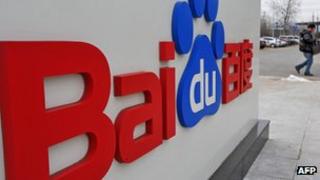 China's biggest internet search engine Baidu has reported better-than-expected profits for the third quarter, boosted by increased advertising sales.
The company said it made a profit of 1.88bn yuan ($295m; £184m) in the three months to the end of September, an 80% jump from the same period last year.
Baidu said its revenues soared by 85% to $654.7m during the period.
Baidu enjoys almost an 80% share of the online search market in China, the world's biggest internet market.
"Spending by large customers significantly outperformed our expectations as we continued to build strong relationships with high quality companies," Robin Li, chairman of Baidu said in a statement.
Growth potential
China has more than 450 million internet users and is one of the fastest growing online markets in the world.
However, given its size and population, internet penetration in China is relatively low at around 30%.
At the same time, the internet population is mainly based in the more developed urban centres, with the rural areas yet to catch on to the bandwagon.
Baidu said given the growth prospects of the industry in China, it was confident of cementing its place as the market leader even further.
"China's search industry is still in its early stages, and as the clear industry leader we see enormous room for continuing growth as users and online marketing customers become increasingly sophisticated." Mr Li said.
Baidu receives about 10 million search queries in English a day, according to the company, making it an attractive choice for advertisers looking to tap into the Chinese consumers.
Analysts said given its dominance, Baidu's is likely to grow even more.
"We are seeing an acceleration in search and Baidu is also gaining share, which is benefiting them," said Mayuresh Masurekar, analyst at Collins Stewart.
"Baidu should be able to grow strongly despite any slowdown in the China economy because online advertising is gaining share from traditional advertising, it's a secular shift," he added.