Hewlett Packard will now keep its PC and tablet arm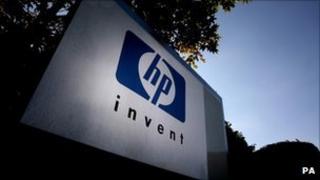 Hewlett Packard (HP) says it will now keep its personal computer division after reviewing a plan by its former chief executive to sell it.
The decision to retain the personal systems group (PSG) was made by HP's new head, Meg Whitman, who said HP would be a "stronger" firm as a result.
Her predecessor, Leo Apotheker, said earlier this year the company would look to spin-off the hardware arm.
PSG is the world's biggest maker of personal computers.
Ms Whitman said in a statement: "Keeping PSG within HP is right. HP objectively evaluated the strategic, financial and operational impact of spinning off PSG.
"HP is committed to PSG, and together we are stronger," said Ms Whitman, a former eBay executive who took over in September.
She added: "It's clear after our analysis that keeping PSG within HP is right for customers and partners, right for shareholders, and right for employees."
Analysts welcomed the decision, with Forrester's Frank Gillett saying: "Hopefully this is a beginning of a set of events over the next year that demonstrates the board has a better grip on things."
The plan to sell PSG was part of Mr Apotheker's strategy to refocus HP on software and cloud services.
But within months of being appointed in November last year, shareholders and analysts became uneasy about his planned changes and subsequent acquisition of the UK software company Autonomy.
HP shares fell 20% the day after Mr Apotheker announced the possible spin-off of the PC arm, and lost 40% of their value during his tenure.
Shares in the company rose 4.8% on Thursday.