Hershey forecasts low growth in 2012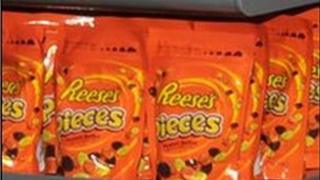 Chocolate maker Hershey reported a 12% gain in net income to $196m (140m euros; £123m) in the third quarter but predicted that growth and sales are set to slow next year.
Its chief executive John Bilbrey described the outlook for 2012 as "challenging".
He said prices of key ingredients like sugar and cocoa, were at "levels greater than their two-year average".
Share prices in New York fell 3.7% after the announcement.
US sugar stockpiles shrank to their lowest levels for 37 years earlier this month due to spoilt crops.
Floods in Thailand, the world's second largest sugar producer have combined to keep sugar prices high.
Despite the impact of high cocoa prices on Hershey, its price has now begun to fall after the world's largest producer, the Ivory Coast, resumed exports after a one month hiatus during the political upheavals in January.
Credit Suisse today lowered its three and 12 month cocoa price forecasts describing the commodity as '"expensive".
Hershey owns the brands, Reese's Pieces, Hersheys, Twizzlers and it also produces Kit-Kat in the US under licence from Nestle.