Santander affected by bad debt despite recapitalisation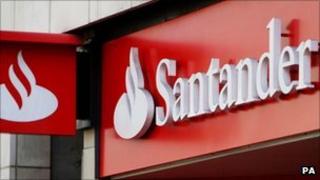 The Spanish banking group Santander has reported a 10% increase in net profits to 1.8bn euros ($2.5bn; £1.6bn) in the third quarter compared with last year.
The results were below market expectations. Profits for the same period last year had fallen 26% after Spain introduced new rules for banks to make provisions for bad loans.
"We see bad loans on the rise in Spain," said its boss Alfredo Saenz.
Its profits fell in the UK because of provisions for mis-selling insurance.
Santander UK has been hit by claims for mis-selling payment protection insurance (PPI) after the industry lost a court case in April.
It has been forced to put aside 840m euros to compensate customers.
Santander has 25 million customers in the UK. It bought Abbey National in 2004, Bradford & Bingley in 2008, and Alliance & Leicester in 2010.
Grupo Santander is the eurozone's largest bank by market capitalisation and it has come under scrutiny for its levels of Tier 1 capital, the funds that banks hold in reserve to absorb losses.
The bank said it would increase its Tier 1 capital level to 9.2% by June 2012, which would bring it in line with criteria set by the European Banking Authority.