US economic growth up on spending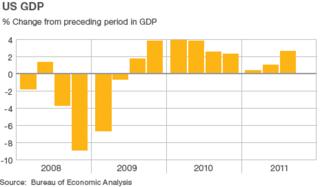 The US economy grew at an annualised rate of 2.5% in the third quarter of this year, according to figures from the US Commerce Department.
The figure was in line with expectations and a significant improvement on growth in the second quarter of the year of 1.3%.
Growth was boosted by consumer and business spending as well as international trade.
It was also announced that new jobless claims for the week fell to 402,000.
The US economy added 103,000 jobs in September, ahead of many economists' expectations.
"It's telling us that expectations that we'd have a better second half than the first half are being fulfilled. There's nothing spectacular about 2.5% growth, but it's more than double what we had in the first half of the year," said David Resler, chief economist at Nomura Securities in New York.
Analysts said the figures were driven by a rise in spending on durable goods such as fridges during the period.
Commerce Department figures out earlier in October showed that orders for durable goods rose 1.7% in September, excluding transportation equipment.
However, consumers still seem nervous about the future of the US economy
Recent figures from the monthly Conference Board report showed US consumer confidence dropped in October to its lowest level since March 2009.