Pay deals 'lag behind inflation'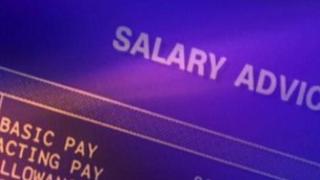 UK pay deals are failing to keep up with the cost of living, especially for public sector workers, according to new research.
The median settlement in the three months to the end of September was 2.6% in the private sector, Incomes Data Services said.
This compared with a pay freeze on average in deals within the public sector, the report said.
Both were well short of the inflation rate which stood at 5.2% in September.
The median figure is the one for which half of all deals are above it and half are below it.
The Consumer Prices Index (CPI) rate increased from 4.5% the previous month. The Retail Prices Index (RPI), which includes mortgage interest payments and is measures differently, rose to 5.6% from 5.2%.
"The different experiences of the public and private sectors are shaping the difference between the level of pay settlements between the two sectors," said Ken Mulkearn, editor of IDS Pay Report.
"While pay awards are ahead in the private sector, they are still some way behind inflation, even in manufacturing where pay awards are higher in comparison to other sectors."
Meanwhile, the TUC is calling on the Low Pay Commission (LPC) to recommend raising the national minimum wage next year by more than the rate of inflation.
The rate from October 2012 to September 2013 should rise by more than the RPI measure of inflation or the growth in average earnings, depending on which is higher, it said.