Blacks Leisure reports a £16m loss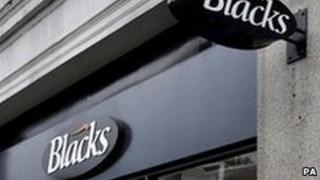 Blacks Leisure, the outdoor goods chain, has reported a £16m pre-tax loss for the six months to 27 August.
The firm made a £7.2m loss in the same period last year.
Blacks blamed "an extremely challenging period for the business and the UK retail sector more widely".
Like-for-like sales fell 7.2% to £81.1m and the firm announced a refocusing of its brands, which include the camping chain, Millets.
'Going Concern'
The half-yearly results mention a "material uncertainty" about Blacks' ability to continue as a going concern unless it finds new financing.
The group has already renegotiated its existing banking covenants in light of the losses.
A statement from the newly-appointed non-executive director, Peter Williams, said "there is a real opportunity with the right funding structure for the business to re-establish its forward momentum".
The firm has seen several directors resign in 2011, including chief executive Neil Gillis in February, its chairman David Bernstein in August and its finance director Marc Lombardo who is due to leave in December.