Eurozone: Now for the hard work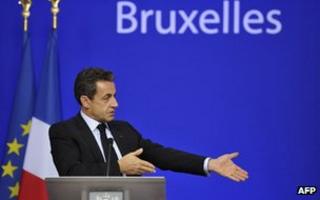 Eurozone leaders have delivered more than investors feared they would only last night, and less than they would ideally like to see.
An agreement in principle with banks and private-sector creditors that the Greek government will pay them back only half what they are owed came right at the last moment.
It will also be seen as progress that the 250bn euros left in the kitty of the bailout fund, the European Financial Stability Facility, is to be multiplied four or five times by the use of financial engineering - which President Sarkozy hopes will see the China involved in rescuing highly indebted countries like Italy.
But although markets reacted positively to the news, ideally investors would like to see bailout resources of at least 2 trillion euros and a Greek write-off of 60%.
The other vitally important point is that what we have - on the expansion or "leveraging" of the bailout fund and the reduction of Greek debt - is a statement of what eurozone leaders wish to achieve. All the technical implementation, which will be messy and complicated, is yet to come.
There were two other important developments.
First it was confirmed that European banks will have to raise 106.4bn euros of new capital, with Greek banks having to find 30bn euros, Spanish banks 26bn euros, Italian ones 15bn euros, French 9bn and German 5bn.
But perhaps most significant was eurozone leaders' announcement that there will be tougher controls in future on the budgets of member countries, integration of taxation, and a whole new framework for running the eurozone, including a new leadership structure which will rival the decision-making mechanism of the wider European Union.
The implication is unmissable - that the eurozone will more closely resemble a superstate, with countries on the outside such as the UK unable to influence much of Europe's economic policymaking.