Nintendo's net loss widens because of the stronger yen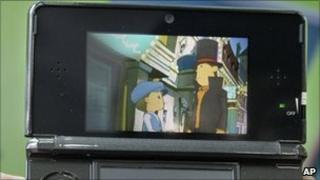 Japanese gaming giant Nintendo said its half-year loss widened due to lower software sales and a stronger yen.
The gaming group made a net loss of 70.3bn yen ($925m; £579m) in the six months to September, from a loss of 2bn yen in the same period last year.
Nintendo, which makes 80% of its sales abroad, has been hurt by the sharp rise in the value of the yen.
The firm has also been hit by weak sales of its 3DS handheld game player, of which it sold 3 million units.
Nintendo has had to cut the price of the 3DS sharply in Japan and the US.
The firm had net sales of 215.7bn yen in the six months, down from 363bn yen in the same period last year.
For the year to April 2012, Nintendo now forecasts 790bn yen in sales, down from its previous forecast of 900bn.
It had expected to make a net profit of 20bn yen, but now expects a net loss of the same amount.