South Korea economic growth slows as investment falls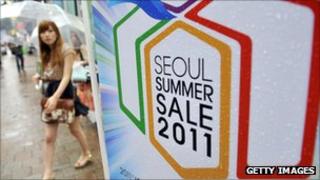 South Korea's economic growth slowed for the second successive quarter as businesses cut back investments.
Gross domestic product (GDP) grew by 0.7% from July to September, down from a 0.9% expansion in the previous April-June quarter.
Capital investment slowed as firms continue to be concerned about growth prospects amid fears of a global economic slowdown.
Analysts warned growth may slow even further.
"(GDP numbers) will probably be bad in Q4 as well," said Jun Min-kyoo, an economist at Korea Investment and Securities.
"For now, the crisis in Europe hasn't affected export numbers badly, but growth numbers can still fall well into Q1 of 2012,"
Growth concerns
The data comes amid concerns that a slowdown in the US and the ongoing debt crisis in Europe may hurt consumer demand in those regions.
That is likely to have an affect on Asia's export-dependent economies, which rely heavily on demand from the Western markets.
The fear is that the impact on South Korea will be significant, given that exports contribute almost half of its GDP.
At the same time, there have been fears about a slowdown in domestic demand in South Korea as households grapple with high levels of debt.
Analysts said the combination of these factors was deterring businesses from increasing their investments and hurting growth.
"There will not be a rapid recovery, as there is a still a lot of uncertainty about the global growth," Ma Tien Ying of DBS Bank told the BBC. "The sentiment is likely to be cautious for now,"
The data showed that facilities investment shrank by 0.4% compared with the previous three months.
However, the overall third quarter economic data was largely in line with expectations.