Shell and Exxon see profits up sharply on oil prices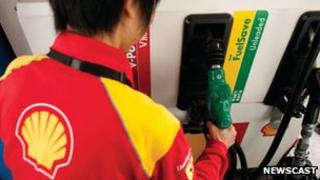 Higher gas and oil prices have pushed up profits at ExxonMobil and Royal Dutch Shell during the three months to the end of September.
Current cost of supply net income at Shell doubled to $7.2bn (£4.5bn), compared with $3.5bn during the same period a year ago.
At Exxon, meanwhile, profits increased by 41% to $10.3bn.
The cost of Brent crude was 48% higher in the quarter compared with the same period last year.
Higher oil prices also increased the price of gas in Europe and Asia. Shell produces almost as much gas as oil.
"Our profits pay for Shell's substantial investments in new energy projects, to ensure low-cost, reliable energy supplies for our customers and to create value for our shareholders," said Shell chief executive Peter Voser.
"Our third quarter results were higher than year-ago levels, driven by higher oil prices and Shell's performance," he added.
In the UK, the company recently announced it was investing in the deep-water Clair oil field west of the Shetland Islands, in a scheme operated by rival BP.
The company also completed the sale of the Stanlow refinery for a total of $1.2bn.
Exxon boost
Exxon said that capital and exploration expenditures reached a record $26.7bn for the first nine months of the year.
"We continue pursuing new opportunities to meet growing energy demand while supporting economic growth, including job creation," chairman Rex Tillerson said.
Production decreased 4% compared with the third quarter of 2010.
Shell said it had had a series of recent accidents.
In August, the company suffered a leak at its Gannet Alpha platform in the North Sea of around 1,300 barrels.
In October, Shell declared a force majeure on some of its customers after a fire shut down its refinery in Singapore.