Saudi railway to be built by Spanish-led consortium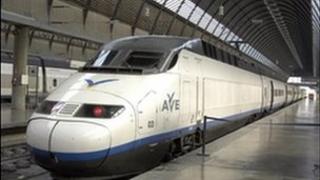 A Spanish consortium has won a contract to build a high-speed rail link in Saudi Arabia.
The contract, worth 6.7bn euros ($9.3bn; £5.8bn) involves supplying 35 trains and operating the network for 12 years, the Saudi Railways Organisation said.
The project links the two holy cities of Mecca and Medina.
The UK firm Invensys Rail forms part of the consortium and will supply software systems for 485m euros.
Invensys Chief Executive, Wayne Edmunds described the deal as "a major breakthrough for Invensys Rail'.
The Spanish consortium, called Al Shoula, beat its French rival, SNCF Alstom to the multi-billion euro contract.
Spain overtook France in 2010 with its high-speed rail link which is the largest in Europe and accounts for 40% of Spain's 4.8 million long-distance passengers.
Mecca in particular is a well-visited city with around 2.5 million Muslims making the annual hajj pilgrimage to each year.