US shale gas to be exported globally in $8bn deal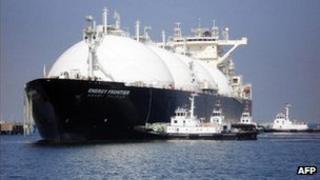 Cheap US shale gas could be exported for the first time after an $8bn (£5bn) deal between the BG Group and US energy firm Cheniere.
Gas extracted from rocks in the US could be liquefied and sent to countries in Asia and Europe, including the UK.
The price of gas in the US is currently a quarter of the price in Asia and about half the price in the UK.
The gas could be exported from the Sabine Pass terminal on the Gulf coast.
"If we start construction by next year, then we could be exporting by 2015," said Cheniere chief executive Charif Souki. "The BG Group contract will help with financing."
BG currently exports to 22 countries including the UK.
Under the deal, Cheniere will sell 3.5 million tonnes A year of liquefied natural gas to BG for 20 years, at a cost of 115% the US price plus $2.15 per million British therms.
Including shipping costs, analysts say this would make US imported gas cheaper than gas in Asia or Europe.
Shale gas drilling has already started in the UK, where Cuadrilla resources says it has found extensive reserves in Lancashire.