Ford hit by falling metal prices and losses in Europe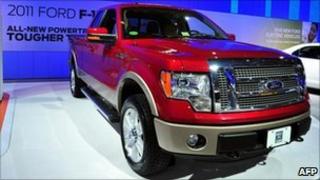 Ford reported a dip in profits with losses in Europe and Asia but fared better at home with sales up 14% to $18bn (£11.3bn, 13bn euros).
The auto giant reported a third quarter profit of $1.6bn, a drop of $38m from the same period last year.
They were hit with a $350m charge to write down the value of hedges they took on rising metal prices. However, these costs fell sharply last month.
The prospect of a dividend, not paid since 2006, is still not likely.
The chief financial officer, Lewis Booth, said the company would not address the timing of a dividend before seeing more improvement in its core business.
The Michigan-based company said the outlook for North America was on a slow upward trend and admitted growth in China was slowing down.
The car-maker still remains the best-selling brand in the US and has increased market share both in Europe and at home.