Indonesia's Freeport copper mine declares force majeure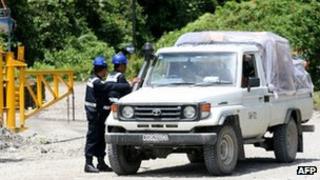 The US mining giant Freeport-McMoran has said it is no longer liable for contracts on sales from its strike-hit copper and gold mine in Indonesia.
The Grasberg mine in restive Papua province has been hit by six weeks of action over pay and conditions.
The declaration of force majeure frees Freeport of some of its contractual obligations to customers of the world's second largest copper mine.
There have been several deaths during the strike which thousands have joined.
Gunmen attacked a police patrol car 5km (three miles) from the mine early on Wednesday, police told AP news agency.
The unidentified gunmen fired several rounds, the detective said, but no-one was injured.
As well as the strike, the mine has been hit by road blockades and a damaged pipeline.
Contract workers
Workers at the mine, currently paid up to about $3 (£1.90) per hour, had demanded up to $43 per hour after hearing what their counterparts earned in Freeport mines elsewhere, but have since scaled back their demands, reports say.
Talks are said to have resumed last week.
The company has drafted in non-unionised contract workers to maintain production but on Wednesday said it became clear it would be unable to meet its supply commitments.
"As previously reported, the strike action at PT Freeport Indonesia has impacted production and concentrate shipments," Freeport Indonesia spokesman Ramdani Sirait said in a statement.
"The lower concentrate production has impacted our ability to fully perform our sales commitments and as a result, we were required to declare force majeure on the affected concentrate sales agreements," he added.
The news buoyed copper prices on the London Metal Exchange, with the benchmark contract rising as much as 3.5% to $7,785 per tonne - just below a month-long peak of $7,820 hit on Tuesday, Reuters news agency reported.