BBVA sees profits decline by 29%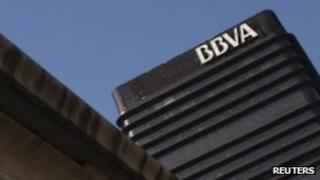 Spain's second-largest bank, BBVA, has reported net profits of 804m euros ($1.1bn; £701m) for July to September, 29% less than the same period in 2010.
Its shares fell 1.1% during morning trading on the Madrid stock exchange after the announcement.
The bank blamed poor trading in Europe because of the sovereign debt crisis and "weak lending activity" in Spain.
BBVA was one of several Spanish banks downgraded by all three credit rating agencies earlier this month.
BBVA holds bad debts on its books dating from the Spanish housing market bubble, which ended in 2008.
The ratio of its bad debt rose to 4.9%, from 4.7% in the second quarter.
The bank passed an EU stress test in July this year and announced an increase in its capital reserves to 9.1%, up from 8.2% last year.