Complaints about water companies fall, says Ofwat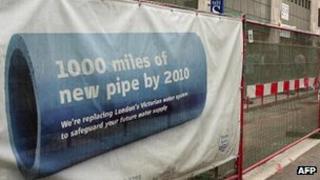 The number of complaints about water companies in England and Wales has fallen but the regulator says seven companies need to do more to maintain their infrastructure.
Ofwat reported that complaints fell by 20% between April 2010 and April 2011 to 185,840.
However, the watchdog had concerns about leakage, maintenance and supply interruptions from some firms.
In June, it reported that six companies had missed leakage targets.
"Companies will be paying out around £38m from their own pockets to fix these problems," said Ofwat chief executive Regina Finn.
Ofwat says Southern Water will return £5m directly to customers and Yorkshire Water will invest £33m in improving its pipe network.
Maintenance problems
Each year the water regulator looks at the performance of the 21 water companies in England and Wales.
Its review found a fall in the number of complaints, high water quality and a steep fall in the number of homes with internal sewer flooding.
However, in June Ofwat reported that six firms - Anglian, Welsh Water, Northumbrian - north east operating area, Severn Trent, Southern and Yorkshire - had failed to meet targets on reducing leakage from their networks.
The regulator has now found that seven companies - Anglian, United Utilities, Northumbrian, Severn Trent, Southern, Veolia Water Central and Yorkshire - are also not doing enough to maintain their underground infrastructure and so prevent leakages.
It also reported a high number of supply interruptions, especially in the Severn Trent area.
But despite this customer satisfaction remained high.
In its survey of 17,000 customers, Ofwat found that most gave their water supplier an average score of 4.2 out of 5.
Veolia Water East polled most strongly with an average score of 4.59 and United Utilities was the worst performer with a score of 3.79.