Stobart profits fall as economy hits haulage demand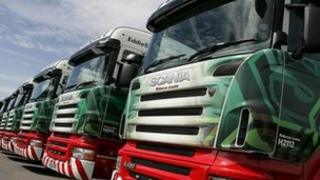 Haulage firm Eddie Stobart has said its transport operations were affected by fluctuating demand over the summer because of the weak economy.
The firm said its pre-tax profit was down to £14.7m for the six months to 31 August, compared with £15.4m last year.
However, revenue increased 15.3% over the same period to £281.1m.
Stobart said it had increased the efficiency and fleet utilisation of its lorry business, improving its profit margins.
"The weak economy, however, has held back our rate of profit growth, particularly in transport and distribution," said chief executive Andrew Tinkler.
"The road transport operations were affected by fluctuating customer demand during the summer, but we have substantially improved our operational information systems," he added.
The company also has operations in property, infrastructure, rail freight and biomass.
It runs Southend airport in Essex and recently signed a deal with Easyjet to start flights from the airport in April 2012.
The firm's biomass business focuses on exporting wood products for renewable energy and increased its revenue to £2.6m.