BAA cuts losses as passenger numbers rise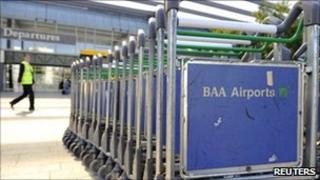 Airport operator BAA has cut its losses for the first nine months of year after seeing an increase in the number of passengers using its airports.
It reported a pre-tax loss of £147m against a £193m loss in 2010, when results were hit by the volcanic ash cloud and BA strike.
BAA increased the number of passengers it served by 4.3%.
The company confirmed it had requested a judicial review of a ruling that it must sell Stansted airport.
The Competition Commission ordered the sales in its final ruling earlier in the year which ordered the operator to sell Stansted and one of its Scottish hubs of Glasgow and Edinburgh.
Earlier this month, BAA announced the sale of Edinburgh Airport, which is due to be completed by summer 2012.
Commenting on the results the BAA chief executive, Colin Matthews, said fewer disruptions had helped the group.
"Our strong financial performance was driven by underlying growth in passenger number, higher revenue per passenger, continued cost control and no recurrence of the volcanic ash and strike disruptions of 2010," he said.
The company's largest shareholder, Spanish infrastructure firm Ferrovial, also announced it has sold 5.9% of BAA to an investment fund.
Alinda Capital Partners - a US firm that specialises in infrastructure - will pay 325m euros ($441m, £282m).
The deal cuts the Spanish owner's stake in BAA to 49.99%, meaning it no longer has to include the UK firm's debts on its balance sheet.
The deal put a much higher value on BAA than analysts had expected.
BAA has debts of more than £10bn.