Eurozone rescue plan hits new hitch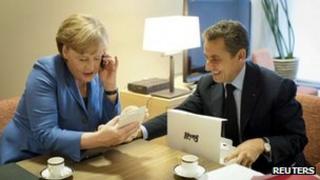 There has been another hiccup in the eurozone's plans to announce a final rescue deal in Brussels to try to end the turmoil in the euro area.
The Polish presidency of the EU has confirmed to the BBC that key meetings have been postponed.
The EU's 27 finance ministers and the 17-nation Eurogroup will not now meet on Wednesday, although a full emergency heads-of-government summit will happen.
This could mean a delay to final announcements on solutions.
The hitch could stall agreement about how to enlarge the European Financial Stability Facility (EFSF) rescue fund and secure larger write-offs of Greek debt, although there is no confirmation of this.
However, the BBC's Chris Morris in Brussels says the cancellation is being seen as largely procedural, since the full EU summit meant there was no need for the finance ministers to meet.
Meetings of economy and finance ministers - known as Ecofin - are traditionally held to to prepare measures for consideration by heads of state and government at a summit.
BBC business editor Robert Peston says it means Wednesday's summit will agree broad principles of eurozone rescue, but detail of measures will then need to be finalised by subsequent finance ministers' meetings and "presumably not published for a few days".
More talks
The full emergency summit and dinner involving the 17 eurozone nations afterwards will still go ahead as planned.
It is, however, understood that more political discussions are to take place.
The rescue plan has three key prongs, banks refinancing, boosting the EFSF's 440bn euro firepower (£385bn, $612bn) and cutting the amount lenders to Greece should expect to see repaid.
Agreement on that last point was made in July but the chairman of the eurozone finance ministers, Jean-Claude Juncker, said on Tuesday that private investors may need to take a 50% loss on Greek lending, rather than the 21% loss agreed then.
Meanwhile, the Italian government has been told it must come up with new austerity measures by Wednesday before any eurozone rescue measures can be signed off, something that its premier, Silvio Berlusconi, is struggling to get agreement for from his coalition government.
Breathing space
The Bank of England governor, Mervyn King, cast doubt on whether eurozone area leaders would be able to find solutions: "Even on July 21 there was a package which they held out as being the solution to it. The underlying problems hadn't changed at all and they won't change."
Speaking before the House of Commons treasury committee, he said at best the leaders might gain a breathing space.
Sir Mervyn also said he was not sure that his own measures to help the UK's economy in the form of another £75bn of Quantitative Easing would provide a solution to the country's own economic problems: But Sir Mervyn said: "I can't guarantee that it means that bank lending will rise, but what I do believe is that it won't fall as far as it might otherwise have done.
"I think the action will make a difference to the amount of lending, but it certainly doesn't guarantee that lending to the real economy is positive."