Credit Suisse fined £6m by FSA for advice failings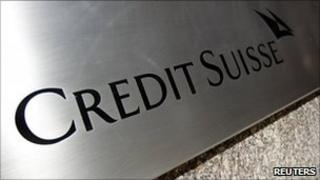 The UK arm of Credit Suisse has been fined £5.95m for failings over advice to customers when selling complex financial products.
Its private bank was criticised by the Financial Services Authority (FSA) for its systems and controls of structured capital at risk products (Scarps).
The City watchdog said not enough care was taken over clients' attitude to risk in January 2007 to December 2009.
The bank said it deeply regretted the faults, which had now been corrected.
Risk test
Scarps are supposed to produce an income which is mainly dependant on the performance of the FTSE 100, and other share indexes, as well as baskets of shares. However, they expose investors to the risk that they could lose all or part of the sum invested.
Credit Suisse customers invested more than £1bn in these products over the three years in question, but there were losses estimated at £192m during this period.
The bank, which operates a private bank for wealthy investors, advised 623 customers to invest in Scarps over the period.
The FSA said that not enough attention was paid by the bank to assessing customers' attitudes to risk. It said the fine was reduced from £8.5m owing to a settlement at an early stage in its investigations.
"We have seen all too frequently the consequences of financial services firms failing to implement proper systems and controls to ensure their customers invest in suitable products," said Tracey McDermott, acting director of enforcement and financial crime at the FSA.
"A proper assessment of customers' individual needs and circumstances is even more critical where firms are selling complex products like Scarps."
Issues at Credit Suisse included:
Failing to properly assess customers' attitudes to risk
Not taking reasonable care to check whether Scarps were suitable for individual investors
Failing to monitor staff to ensure they took reasonable care when giving advice
In a statement, Credit Suisse said it "deeply regretted" the failings of systems and controls.
"We have made significant improvements to our processes and controls since 2009 and we are confident that we currently comply with our regulatory obligations," it said.
"We fully co-operated with the FSA and are pleased to put this matter behind us."
Credit Suisse was fined £5.6m in 2008 for failing to conduct business with due skill, care and diligence.