Boeing's 787 Dreamliner ushers in new era in aviation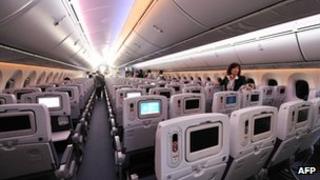 Despite an unfortunate incident in which an engine cowling bumped into a passenger bridge - no damage beyond a scratch according to the airline - All Nippon Airways (ANA) has been careful in ensuring its new jet is in perfect condition for Wednesday's first flight with paying passengers.
Cabin crew going on-board the 787 for training have had to wear cloth covers over their shoes.
Cameramen and journalists allowed inside to film have been admonished to be careful after several seat-back screens were scraped by clumsy members of the press corps.
Engineers have been going over every inch of the plane and seem to like what they see.
When the BBC was invited to Haneda airport in Tokyo to look at the plane some were lying on their backs on the tarmac under the engines taking photographs of the workings inside.
First flight
But the first Dreamliner cannot remain pristine forever.
More than three years behind schedule it is going into commercial service - with a special charter flight between Tokyo and Hong Kong.
Normal scheduled operations will begin on 1 November linking Haneda Airport with Okayama, a smaller Japanese city known for its peaches, and Hiroshima.
But for the huge numbers 787 painted on the side, the new aircraft may not stand out at airports.
Unlike the double decker Airbus A380 Boeing's plane is more traditional in size and layout. It has twin engines, two aisles and can seat between 210-250 people.
The slightly larger version, the 787-9 can accommodate up to 290.
Attention to detail
The innovation is under the paintwork. The 787 is billed as the first passenger jet made of plastic, not metal.
Much of its structure including the fuselage and wings is formed from composites - carbon fibre.
Boeing says that means the 787 is lighter and more fuel efficient. They claim a 20% improvement over earlier generations of aircraft.
"This airplane will bring some kind of revolution for air travel for passengers and airlines," says Yoshitomo Aoki, an analyst specialising in the aviation industry.
"The price of fuel is increasing every day, every year. The airlines would like to compress the fuel use. Low fuel consumption means low emissions, and low CO2. It is a very green aircraft. "
Inside the 787 there are some neat touches that the first passengers will notice.
Plastic window shades have been done away with and instead pressing a button makes the Perspex itself slowly go dark.
ANA's first 787 has a lighting system that can turn the ceiling into the colours of the rainbow.To suit local tastes the airline has installed what the Japanese call "washlets" in the toilets - warm water sprays as an alternative to toilet paper.
The aircraft's structure means it should be more comfortable to fly in.
Air pressure inside will be the equivalent of an altitude of 6,000ft rather than the 8,000ft of current planes. And it will be less dry, more humid.
'The Pacific disruptor'
But for Boeing though, the biggest breakthrough is how the 787 affects the economics of aviation.
It is a medium-sized plane that can fly a very long way, 15,000km (9,320 miles), sufficient range to go non-stop from New York to Hong Kong or Johannesburg.
Boeing's concept is that passengers will want to fly directly from their nearest airport to where they want to go, rather than going between hubs on bigger planes like the Airbus A380.
"We call it the Pacific disruptor," says Mike Denton, president of Boeing Japan. "We've got a medium, twin aisle aeroplane that can fly long routes, almost the same as a 777."
"So it's a wonderful opportunity to connect city pairs around the world that don't really have enough passenger traffic to justify economically a larger airplane like a 777. We can now service that route with a 787," he adds.
"We have opened up more routes for the airlines that they can serve and make money."
Boeing is upbeat that the 787 will be a success. It still has a backlog of about 800 orders on its books despite the airline China Eastern cancelling the 24 it wanted citing production delays.
But within a few years the 787 will face competition.
Airbus is building its own new twin engine plane, the A350, that it says will be more fuel efficient compared to earlier generations of aircraft too.