UBS reports profit despite trading scandal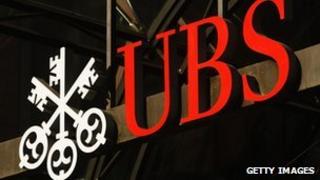 Swiss bank UBS has reported a better-than-expected third-quarter net profit of 1bn Swiss francs ($1.1bn; £710m).
This was despite being hit by a 1.85bn-franc loss from deals made by alleged rogue trader Kweku Adoboli.
UBS admitted its internal controls had failed and said it was taking steps to address this.
But that loss was almost entirely offset by a 1.77bn-franc accounting gain that came from changes to the value of the bank's own debt.
The Swiss banking group said it had been hit by unauthorised trading on 15 September, shortly after Mr Adoboli was arrested in London.
UBS admitted the weakness in its banking system: "We have taken and are taking measures to address these control deficiencies." The bank said investigations were continuing.
Mr Adoboli will appear in court in London next month. He faces two charges of fraud and two of false accounting over a three-year period at the bank. He has yet to enter a plea against the charges.
The latest UBS profits are nearly 40% lower than in the same quarter a year ago.
Although the bank acknowledged that the current economic climate could be turbulent, interim chief executive Sergio Ermotti said the outlook for UBS clients and shareholders was "unquestionably solid".
The bank employs 6,000 people in the UK and is set to announce more restructuring next month. Chief financial officer Tom Naratil said he would only give details of further possible cuts then.