Chip designer Arm Holdings boosted by new customers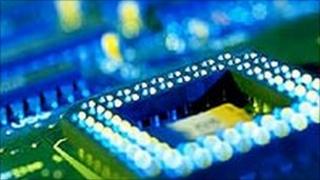 Arm Holdings, the microchip designer whose chips power Apple's iPhones and iPads, has seen strong growth in new customers licensing its designs.
Arm said that 1.9 billion chips based on its technology were shipped in the three months to the end of September.
It said demand for its technology had come from a broad range of applications, including automotive applications, computers and sensors.
Pre-tax profit rose 44% to £55.8m in the third quarter.
Revenue was up 20% to £120.2m, the company reported.
Arm said it expected full-year revenues to be in line with market expectations of $763m (£477m).
Shipments of chips to mobile phones and mobile computers grew 10% year-on year, while chips shipped into non-mobile markets such as digital TVs grew 50%.