Japan plans Baht loans for firms hurt by Thai floods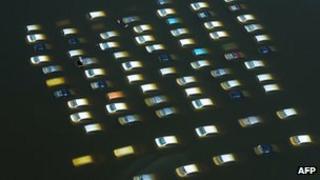 The Bank of Japan (BOJ) is collaborating with Thailand's central bank to implement a loan programme to help Japanese firms affected by flooding in the country.
The BOJ said it will offer government bonds as collateral to ensure that Baht loans are made available to firms.
Excessive flooding has forced many Japanese manufacturers to shut their factories in Thailand.
Thai authorities have said that floods may last another four to six weeks.
"One aim of this measure is to facilitate the funding of financial institutions operating in Thailand including Japanese banks, which provide financial services to firms, including Japanese firms operating in the flood-affected areas of Thailand," the BOJ said in a statement.
Big impact
The floods in Thailand have had a significant impact on the production of Japanese manufacturers operating in the country.
All nine of the Japanese carmakers with operations in Thailand have been forced to suspend production. According to the Japan Automobile Manufacturers Association, production of 6,000 units has been affected on a daily basis.
Meanwhile electronics maker Sony says it has delayed product launches after the floods halted production at two of its three factories in Thailand.
Analysts say the suspension in production could hurt the Japanese economy as the companies source some of their parts from suppliers and manufacturing facilities based in Japan.
"The impact is large enough to push down Japan's industrial production by 1 percentage point for the next two to three months," said Hiroaki Muto of Sumitomo Mitsui Asset Management Co in Tokyo.
Chief Cabinet Secretary Osamu Fujimura added the government was aware of the problems being faced by the firms and was taking measures to help them.
"For Japanese companies that are being affected by the floods, we want to provide support so they have access to sufficient funds and can rebuild production infrastructure."