Video rental firm Netflix loses customers over prices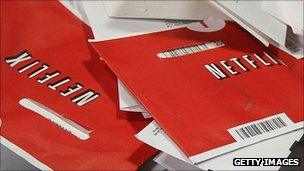 The US video rental firm Netflix has lost subscribers in the third quarter of 2011, as it reels from a customer backlash over price increases.
It had 23.8 million customers at the end of September, a fall of more than 800,000 from June.
Earlier this year it raised prices for its DVD rental and online streaming services, upsetting many customers.
Despite a rise in profits, its shares fell in after-hours trading by more than a quarter.
Profits rose by 65% for the quarter to $62.5m (£39.1m), compared to the same period last year. Revenues rose by 49% to $822m (£514m), well above analysts' expectations.
But the number of subscribers fell by more than the firm predicted, causing the shares to fall sharply in New York after the closing bell.
Netflix has already lost 60% of its value since July after it raised prices for its joint DVD rental and online film and video streaming service.
It further frustrated customers by announcing plans to spin off the DVD arm of the business, to be called "Qwikster", creating two separate accounts for people who wanted both streaming video and DVDs.
CEO Reed Hastings cancelled the DVD split, but has said he expects Netflix's DVD subscriptions to decline over time.
The firm operates the largest video streaming service in the US. Earlier on Monday it announced plans for a new subscriptions service for the UK and Ireland, to launch next year.
Related Internet Links
The BBC is not responsible for the content of external sites.