China jails two officials for leaking economic data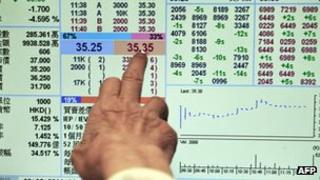 China has jailed officials from the People's Bank of China and National Bureau of Statistics for leaking economic data to securities brokerages.
Wu Chaoming and Sun Zhen were sentenced to six and five years in prison respectively for leaking information.
Leaked data gives traders an unfair advantage by helping them anticipate market moves and profit from them.
China is the world's third-biggest equities market.
"The leaking of national macroeconomic data harms economic operations, prevents fair market competition and affects government credibility, thereby causing heavy losses to the interests of the country, society and individuals," said Li Zhongcheng, deputy director general of the national prosecutor's office.
'Undue advantage'
Sun Zhen, a former deputy director of the secretary's office at the National Bureau of Statistics, was accused of disclosing 27 items of classified statistical data.
Wu Chaoming, former deputy director of the financial history research office at the People's Bank of China, has been accused of leaking 25 items of classified data to people in the securities industry.
Government agencies usually release the economic data to all parties at the same time. Analysts said getting key information ahead of others gives the parties involved an edge over competition.
"It may not be insider trading but it is insider use of sensitive information, which gives an undue advantage," Arjuna Mahendran of HSBC Private Bank told the BBC.
"It becomes very important, especially in times like these when there is a lot of macroeconomic uncertainty," he added.
Effective deterrent?
Du Yongsheng, deputy director of the National Administration for the Protection of State Secrets, said not only did the two officials pass information to brokerages, they also profited by trading stocks themselves, based on the information.
They have also been accused of receiving payoffs in form of fees for delivering lectures at events.
Authorities said they were investigating four people working in the securities sector with regards to the matter.
Analysts said that given the implications of these leaks, strict rules and punishments were needed to discourage people from being enticed into disclosing sensitive information.
"Punitive actions are a good way of deterring people," said HSBC's Mr Mahendran.