New Middle East, same old economic problems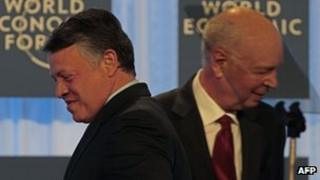 Dotted along the route from Jordan's capital Amman, armed police, all in black, lurk behind trees that line the road.
Apart from those sufficiently important, wealthy or both to come by helicopter, it is the only way in to the Dead Sea resort hosting the Middle East World Economic Forum this year.
But while such security is inevitable, there is little to distract the guards but the camels and goats wandering through the scrub.
For years, this event has also been seen by many as something of a wasteland - a regional talking shop.
But the uprisings in the Middle East and North Africa since the start of the year have pushed it right into focus.
Whirr of excitement
Anti-government demonstrations, often bloody, have been held from Syria to Bahrain to Yemen and even, to a small extent, here in Jordan.
And of course regimes have fallen too.
Tunisia's first democratic elections were already threatening to overshadow the WEF event, even before the death of former Libyan leader Muammar Gadaffi.
Inside the King Hussein Bin Talal Convention Centre, Gaddafi's demise seems to have provoked more than a whirr of excitement - enough to ensure that temporary Libyan Prime Minister Mahmoud Jibril had a packed audience for his talk on the country's future.
But while the region has been in the news spotlight throughout 2011, in truth, the issues on the agenda here - while perhaps being pursued with a renewed vigour - are familiar territory.
On one of the shuttle buses ferrying delegates to hotels and car parks, one of the participants, Mohamad Al-Ississ, is frank: "The problems that this part of the world is facing are exactly the same as they were last year."
"The economic problems are the same and the governance problems are the same," says the associate professor of economics at the American University in Cairo, who saw the Arab spring first-hand.
'Depressed'
Though officially called a "special meeting on economic growth and job creation in the Arab world", the forum's focus has been catchily summed up as the Three Es - education, entrepreneurship and employment.
And while the three are entwined, it is employment or rather a lack of it - especially among the young - that is most spoken about.
Of course, this is not just a Middle East problem, as borne out by an International Labour Organisation (ILO) report that notes how this is increasingly becoming a concern, not least in Europe.
But drilling into the data shows that not only are one in four young people in the Middle East out of work - but that this has been the case since the figures have been compiled.
What makes it more pressing is the fact that about two-thirds of the population are aged under 30.
Back up the road, in the capital, Amman, Mohammed Abujamila does not hold much hope that having a major economic event in his country will make much difference.
He has been looking for work for six months since graduating, but says none of his friends can find work.
"They want experience. But without a job, how can you get experience," he says.
"We're in our 20s, we're depressed and we don't know what the future holds."
'Reality'
Mohammed's accountancy degree in a country with no accountancy jobs is symptomatic of another key issue regularly raised here at the WEF: private firms have a problem finding people with the right skills.
Education in the region is very focused on university, Nestle's Middle East chief executive Yves Manhardt tells the BBC.
"In my home country of Switzerland, people are very proud to do an apprenticeship - in plumbing, being an electrician, that kind of thing. Here, there's not much of that, but the reality is these are the skills and jobs that the region needs."
There needs to be a change of mindset, and an end to the stigma attached to vocational education, he adds.
Some protesters objected to the presence of multi-nationals like Nestle at the forum, although the small but vocal Occupy WEF movement failed to make it to the venue.
And it is true that big business is heavily involved - right down to both of the world's best-known cola brands appearing on tables that are piled with refreshments.
The audience remains predominantly men in grey and blue suits - with the most stand-out flashes of colour coming from the scarlet uniform of Royal Jordanian Airlines cabin crew who are in attendance - and those in the traditional white kandura of some Gulf states.
'Disenfranchised'
Financial institutions are here too - but despite pledges, there remains the all-too-familiar concern here that banks will not lend money to people looking to start their own businesses.
But at the forum, there are awards for young people who have done just that. It suggests that creating a small business may be one way for the region to create the jobs it needs - an estimated 80 million in the next 10 years alone, to just to keep up with population growth.
Jordanian blogger Naseem Tarawnah has seen the uprisings as a business opportunity - with plans to open up a building for young businesses to collaborate.
"Generally there is a correlation between free expression, the push for reforms that creates a different kind of environment that will generate ingenuity, employment and entrepreneurship," he says.
"I don't see entrepreneurship thriving in an environment where's there's little accountability, transparency and there are too many barriers for people to deal with."
After preparing a report on the youth of the region, Karim Sabbagh of the management consultants Booz & Company is in no doubt that action is needed to encourage people to strike out on their own - or to at least feel part of the new society.
"If we don't deal with it, we've got young people who are disenfranchised socially and economically," Mr Sabbagh says.
"And if they are educated, then there's a risk they may choose to leave the region, and they're our biggest asset."