BP wins approval to resume drilling in Gulf of Mexico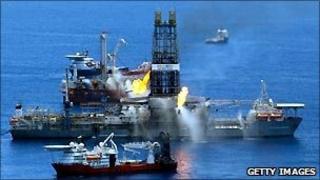 BP has won approval to resume drilling in the Gulf of Mexico, 18 months after a well blowout killed 11 workers and caused an environmental disaster.
Regulators approved plans for drilling to depths of up to 6,000ft about 200 miles off the coast of New Orleans.
US officials said in a statement: "Our review of BP's plan included verification of BP's compliance with the heightened standards."
The Gulf's Kaskida oilfield could contain up to 3bn barrels of crude.
The US Bureau of Ocean Energy Management said BP's exploration plan meets the stringent standards issued by the government after last year's Deepwater Horizon disaster, as well as the additional self-imposed standards that BP has taken.
In the months following the Deepwater affair, many analysts questioned whether BP had a future in the US.
Last week, there were reports in the US that BP would not be barred from participating in an upcoming offshore oil and gas lease sale.