General Electric profits rise led by its financial arm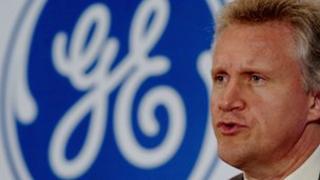 General Electric has reported an 18% rise in third-quarter profits as its financial arm defied the economic slowdown.
In the three months to September 30, the engineering giant saw profits rise to $2.34bn (£1.47bn).
GE said industrial orders grew 16% from the same time a year ago.
However, the biggest performer of the group was GE Capital, whose earnings rose 79% in the quarter to $1.47bn.
Jet engines to fridges
The firm builds a whole range of products, ranging from jet engines to fridges.
It also spent $3.3bn to buy back shares it sold to US investor Warren Buffett at the height of the 2008 financial crisis.
The largest US conglomerate said it expects earnings to rise at a double-digit percentage rate next year.
"We continue to successfully navigate a volatile global economy," chief executive Jeff Immelt said in a statement.