Social tenants to miss £120 solar savings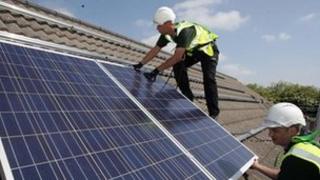 A pioneering project to provide 22,000 tenants of social housing schemes with solar panels generating free electricity is in jeopardy.
Fears the government will cut subsidies for solar installations has led to financial support being put on hold.
The project had been planned by Empower Community, a social enterprise.
Empower says families would have saved an average of £120 from their electricity bills by using free solar power during daylight hours.
Empower's project was supported by eight local authorities and housing associations, along with charities and a major pension fund.
It was designed to take advantage of a subsidy arrangement, called a feed-in tariff, designed to encourage renewable energy generation.
"I was gobsmacked when I heard," says Alex Grayson, managing partner of Empower Community.
"The policy is being cut off at the knees."
Saving money
Householders are paid a generous price for any renewable power they manage to produce.
It was well known that a reduction in the tariffs on offer for solar electricity is likely to be implemented in April next year.
But there has been mounting speculation that ministers will announce a cut of as much as 75% and bring it in from January, after receiving a stampede of applications for the help.
We all pay for the subsidies, through our electricity bills.
They have been criticised for costing electricity users too much and for benefiting mainly richer households and big investment funds.
But Empower argues that its project would have redressed the balance, saving money for low-income families, many of them using pre-payment meters and thus paying the highest prices for power.
Profit sharing
Installations were planned for Wales, Yorkshire, East Anglia and Lincolnshire, with the work starting in January and finishing in March.
Tens of thousands of installations planned by other organisations could be affected as well.
Each home would have had between 8 and 12 solar panels fitted on a south-facing roof, providing the occupants free electricity for 25 years.
In practice, the panels were expected to save between £100 and £250 from a typical electricity bill, depending on how much electricity families could take advantage of while the sun was shining.
Any leftover power would be sold on the National Grid, with the profits and the subsidy shared between the social landlord and financial backers.
Tariffs under review
The Department of Energy and Climate Change (DECC) told the BBC that all the subsidised tariffs were being considered in a comprehensive review.
"We've made clear that tariffs will remain unchanged until April 2012 unless the review indicates the need for greater urgency," added a DECC spokesperson.
However, once rumours started circulating that the department was planning to bring forward a cut in rates, Empower was faced with losing £175m of financial backing.
If the right financing were in place, it is thought that a million housing association and council homes could be suitable for solar panels.