Statoil doubles estimated size of North Sea find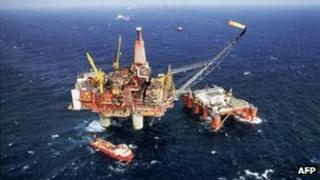 Norwegian oil firm Statoil has said there are twice the oil reserves it previously estimated in its newly discovered North Sea field.
Statoil now says the Aldous Major South field contains between 900 million and 1.5 billion barrels of recoverable oil.
The find is linked to the Avaldsnes field operated by Swedish firm Lundin Petroleum.
The fields mark one of the largest ever discoveries in the North Sea, which has seen declining output in recent years.
"Aldous/Avaldsnes is a giant, and one of the largest finds ever on the Norwegian continental shelf," said Tim Dodson, executive vice president for Exploration at Statoil.
Much of the discovery is in shallower water, making the oil potentially easier to extract and at lower risk.
"This giant discovery has been made in shallow waters in the North Sea. Because of this the value is particularly high," said Erik Haugane, chief executive of Det Norske Oljeselskap, who are partners with Statoil on the Aldous field.
The other partners in the project are Lundin Petroleum and Norwegian state-owned Petoro.
Falling production
The North Sea has seen oil production fall sharply in recent years as old fields are exhausted.
Figures from the BP statistical bulletin for 2010 show UK oil production was down 7.7% and UK gas output 4.3% lower. Norwegian production fell even faster.
But recent finds may help reduce the rate of decline - even if they are unlikely to increase production back to previous levels.
In the UK the new drilling has been concentrated in the deeper water West of Shetland area.
Earlier this month, BP announced a £4.5bn investment in the Clair Ridge scheme, and earlier this year the company unveiled a £3bn redevelopment of the Schielhallion and Loyal fields, also to the west of the Shetland Islands.
In shallower water the Norwegian find will cost less to extract.
"It would make a difference to the decline rate," said Professor Alex Kemp from the University of Aberdeen.
"There will be quite a big increase, big enough to at least moderate the decline rate [in UK and Norwegian production] and possibly stop it for a few years."