Consumer confidence 'falls for fourth month in a row'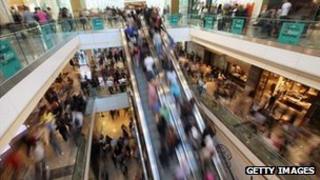 UK consumer confidence has fallen for the fourth month in a row, according to the Nationwide building society.
The mortgage lender's consumer confidence index fell three points in September to 45 points, This is 10 points lower than a year earlier.
It said that 80% of consumers believe there will be no improvement in the economy over the next six months.
Despite this, a quarter of consumers still think that now is a good time for a major purchase, the survey found.
'Pressure mounting'
The Nationwide's figures come after a surprise rise in retail sales for September.
UK retail sales rose by 0.6%, according to recent figures from the Office for National Statistics (ONS).
That was stronger than analysts had forecast, and more than reversed a 0.4% fall in volumes in August.
However the Nationwide survey suggests shoppers remain pessimistic.
"The economy has hardly grown in 2011, and pressure has continued to mount on household budgets," said Robert Gardner, Nationwide's chief economist.
Mr Gardner suggested moves to tackle the eurozone crisis, the return of quantitative easing by the Bank of England, and possible "credit easing" by the treasury could make a difference.
"This could translate into improved consumer confidence, if people believe these efforts will be successful in lifting the economy out of its current malaise," he added.