Three dead at Papua Freeport mine, as strike continues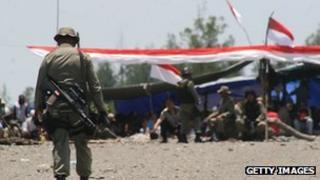 Three people have been killed by gunmen near a gold and copper mine in Indonesia operated by Freeport-McMoran, in another setback for the embattled company.
One of the men was a contract worker for the company and the other two were not employees, said a spokesperson.
The Grasberg mine in the eastern Papua region is one of the largest in the world.
Since 15 September thousands of its miners have been on strike over wages.
Difficult times
"Unidentified gunmen opened fire and three people were killed and one was wounded," said Ramdani Sirait, a spokesman for Freeport's Indonesian subsidiary, to the AFP news agency.
The Papua region is home to a separatist conflict, and has seen multiple shootings in recent years.
It was not clear whether the most recent incident was linked to the strike at the mine.
On 10 October two miners were killed in a clash between police and striking workers.
The company has had to deal with other disruptions - one of the pipelines was shut on Monday after it was damaged in what the company called an act of sabotage.
Earlier this week, the firm said the mine was operating at about two-thirds of its full capacity.
Meanwhile, pay talks resumed on Friday between the company and its Indonesian mine workers union.
The union said it would end the strike and blockades on roads, in return for removal of sanctions on workers as well as pay while they have been on strike.
It also asked the company to consider a five-fold pay increase. Workers currently paid up to $3.50 per hour are demanding wages equal to those paid to employees in other mines around the world operated by the US mining giant.