Lord Turner seeks new financial regulation powers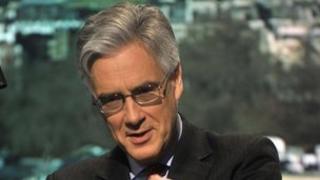 The chairman of the Financial Services Authority has insisted that the forthcoming Financial Conduct Authority must have the power to ban financial policies or misleading advertisements.
In a speech, Lord Turner highlighted the new powers required by the FCA to regulate the way financial firms treat their customers.
The FCA will start work early in 2013 after the FSA has been split up.
A new Prudential Regulation Authority will ensure individual firms are sound.
Lord Turner described the past behaviour of the financial services industry as unacceptable.
He told a City audience that this had already led to more than £15bn being paid out in compensation to customers.
"The history of retail financial services over the last 20 years has not been a happy one," he said.
"Punctuated with too many waves of mis-selling - large scale customer detriment followed by large imposed compensation - [such as] personal pensions, mortgage endowment policies, split capital trusts, payment protection insurance," Lord Turner added.
Protecting consumers
Lord Turner said that customers of financial policies were at a disadvantage to salesmen in the financial services "industry" because of the complexity of many policies, which could make them too risky or too expensive for some people.
"In financial services the potential for the customer to be ripped off is simply far greater than in other sectors of the economy - and the consequences potentially more significant," he said.
To counter this, he reiterated the point that has already been given full support by the government: that the new FCA would need more powers and would have to deploy a more aggressive approach than the FSA has used in the past.
After two rounds of consultations on its plans for a new regulatory regime governing the financial industry, the government is expected to put a formal bill, creating the FCA and the PRA, before Parliament this year.
Telling his audience that the UK was in the middle of the "most challenging financial crisis since at least the 1930s", Lord Turner said a better financial system had to be built for the future.
But he warned that, along with the Bank of England's new Financial Policy Committee, it would not be the aim of the PRA and FCA to stop big banks failing in all circumstances.
The UK public, he said, should accept the sort of situation that exists in the US where banks are allowed to fail in a smooth fashion, and with some creditors, such as bond holders and unprotected depositors, losing some of their money alongside shareholders.