Germany cuts economic growth forecast for 2012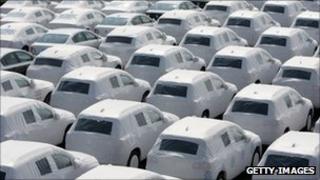 Germany has cut its growth forecast for next year because of expectations that demand for exports will be lower.
The government said it now expected the economy to grow by 1% in 2012, down from its previous forecast of 1.8%.
It also slightly lowered its growth forecast for 2011, from 3% to 2.9%.
Last week, Germany's leading economic institutes predicted that growth would slow to almost zero in the fourth quarter of 2011 and the first quarter of 2012.
They said the country would only narrowly avoid a technical recession, which is defined as two consecutive quarters of contraction.
Slow growth in Germany, Europe's largest economy, makes it much harder for the rest of Europe to avoid a return to recession.
Pillar of growth
The German economy is export-driven but the Economy Ministry said it expected to see domestic demand becoming increasingly important.
It forecast exports will rise by 7.5% this year and by 3.5% next year.
"Domestic demand will become ever more the pillar of economic growth in Germany," the ministry said.
"Overall growth will be sustained almost exclusively by this over the course of this and next year."
Economy Minister Philipp Roesler also pointed to "the risk from the international environment, which has increased significantly".
"With the higher uncertainty due to the debt crisis in several countries, global growth rates have cooled markedly."