Heineken extends Rugby World Cup sponsorship until 2015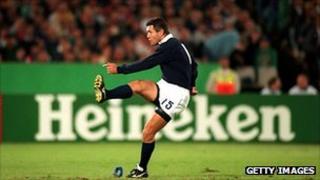 Dutch brewer Heineken has announced it is renewing its sponsorship of the Rugby World Cup (RWC), to cover the next tournament in England in 2015.
The firm has been backing rugby union, both the RWC and European club trophy, the Heineken Cup, for 16 years.
The 2011 event ends this Sunday, when hosts New Zealand take on France at Eden Park in Auckland.
It comes as research from Mastercard says the final weekend will generate $62.8m (£40m) for the regional economy.
The research examines the value of the final by looking at the short-term commerce flow through spending by international fans.
Long weekend
It is expected there will be increased spending in bars, clubs, shops, hotels and bookmakers along with sponsors and organisations spending on marketing in and around Auckland, where the final will be staged on Sunday.
"The climax... will be a revenue spinner for a number of reasons: scheduling the bonze final playoff on Friday night, with the final on Sunday evening is likely to bring in a surge of fans from outside Auckland who are in town for a once-in-a-lifetime long weekend and to watch their team's tilt for global domination," said Simon Chadwick, of the Centre for the International Business of Sport in Coventry.
The Rugby World Cup in England in four years time will mark Heineken's 20-year involvement in the sport.
"England 2015 will see Heineken focusing increasingly on digital initiatives to support their sponsorship," said a spokesman.
For Heineken it will be their fifth partnership with the event, having been a backer in 1995, 2003, 2007, and 2011.
Revenue targets
Meanwhile, tournament organiser Rugby New Zealand 2011 (RNZ 2011) said it has achieved its revenue target with two matches still to be played at the seventh Rugby World Cup.
Revenue from ticket sales has surpassed the NZ$268.5 million target set by RNZ 2011 more than two years ago.
RNZ 2011 chairman Brian Roche said sales this week from the final tranche of tickets to Sunday's final and Friday's 3rd/4th place playoff had pushed revenue to NZ$268.7 million.
Overall 87% of available tickets have now sold.