Nokia swings to loss in the third quarter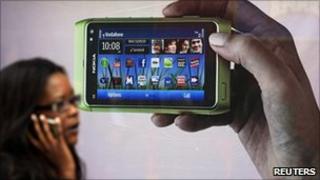 Mobile phone giant Nokia has said it made a loss in the third quarter as it continued to come under pressure from other phonemakers.
It swung to a net loss of 151m euros (£132m) in the three months to September, from a 322m-euro profit in the same period.
Net sales fell 13% to 9bn euros.
Nokia has lost ground to competitors such as Apple's iPhone and phones using Google's Android operating system.
Shares in the Finnish phonemaker have plunged 41% so far this year.
Nokia said it sold 16.8 million smart devices in the quarter - 38% less than the previous year.
But the volume of mobile phones Nokia sold in total rose 8% to 89.8 million - reflecting its strength in cheaper and simpler so-called "dumbphones".
'Encouraged'
The company's new range of smartphones will use Microsoft's operating system instead of Nokia's legacy Symbian software.
"I am encouraged by our progress around the first Nokia experience with Windows Phone," Nokia boss Stephen Elop said.
"We look forward to bringing the experience to consumers in select countries later this quarter."
Earlier this year, Nokia announced thousands of job cuts as part of a 1bn-euro cost-cutting programme.
In April, it said it would cut 7,000 jobs - with 3,000 of the posts being transferred to consultancy group Accenture - as part of a strategy to focus on smartphones.
"The planned changes we have initiated are difficult, but necessary in order to align the company to our strategy," Mr Elop said.