China to control shadow banking and private lending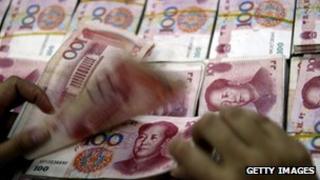 The China Banking Regulatory Commission (CBRC) has said it is looking to curb the rise of shadow banking and private lending in the country.
Liu Mingkang, chairman of CBRC, said the commission was taking measures to ensure such activities do not put the financial system at risk.
There have been concerns that private loans are hurting the government's effort to control lending.
Some estimates put private loans at 4 trillion yuan ($627bn; £406bn).
Recent moves by Chinese authorities to slow credit growth in the country has given rise to shadow banking and private lending, where rich individuals and businesses lend money to individuals and other companies.
These loans come with exorbitant interest rates, ranging from 14% to as much as 70%.
Mr Liu said the commission was "strictly against shadow banks and the risks associated with private financing".
Asset bubbles
In recent years, as the global economy grappled with the financial crisis, Chinese banks lent out record sums of money to ensure the country's growth momentum was sustained.
In 2009 and 2010, banks in China issued a combined 17.5tn yuan of new loans.
However, the surge in lending was followed by a rise in property prices, raising concerns about the formation of assets bubbles in the country.
There have been fears that a fall in the real estate market may see a rise of bad debt amongst the Chinese banks and trigger a slowdown in the country's overall economic growth.
However, Mr Liu said that the ratio of non-performing real estate loans was less than 2%, and it continued to fall in many areas.
"Through unremitting efforts, the latest stress test results show that China's banking industry is in general control of real-estate risk," he said.
Government debt
The other big concern about China's financial sector has been the huge number of loans extended by the banks to local governments.
According to the CBRC, these loans totalled 10.7tn yuan in 2010, or 80% of bank lending.
In June, ratings agency Moody's warned that "economic non-performing loans could reach between 8% and 12% of total loans".
However, China's banking regulator said that the local governments were in a strong financial position and would be able to service their commitments.
"The overall stability of local revenue, through its own economic development and financial growth, and the medium and long term solvency of governments at all levels, continues to increase," Mr Liu said.
He added that revenues have increased by 21.3% last year.