Russia signs free-trade deal with former Soviet states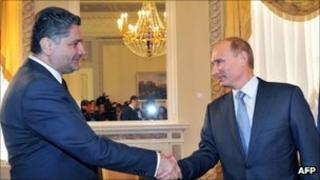 Russia has signed a free-trade deal with seven other former Soviet republics that will scrap export and import tariffs on a number of goods.
The agreement was announced following talks in St Petersburg. The other signature countries are Ukraine, Belarus, Kazakhstan, Armenia, Kyrgyzstan, Moldova and Tajikistan.
No details have yet been revealed about what goods will be included.
Uzbekistan, Azerbaijan and Turkmenistan may join by the end of the year.
The free trade agreement now needs to be ratified by the parliaments of the eight countries who have so far signed up, before becoming effective in 2012.
Russian Prime Minister Vladimir Putin said the move would make their collective economies "more competitive".
Analysts said Ukraine's inclusion was significant, as the country had previously sought closer trade ties with the European Union.
However, Ukraine's current government of President Viktor Yanukovych is seen as being more pro-Russian than its predecessor.
Last week, Ukraine's former prime minister Yulia Tymoshenko was jailed for seven years for acting beyond her powers over a 2009 gas deal.
The European Union said the trial was politically motivated, but this was denied by Kiev.