Rugby World Cup hero Jason Robinson fashions new career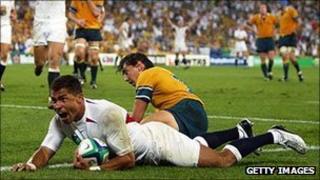 You might not think that the only Englishman to score a try in the Rugby World Cup final would experience what he calls a "void" after he ended his playing days.
But that is exactly what happened to Jason Robinson, one of the heroes of the victorious England rugby union team of 2003.
His dash over the try line shortly before half-time was one of the highlights of England's last-gasp 20-17 triumph against hosts Australia.
After coaching at former club Sale Sharks, a one-year comeback with Lancashire side Fylde, as well as a short-lived experiment with sheep farming, he was looking for a new challenge.
Now the player affectionately known as Billy Whizz for his speedy wing play, has seen an opening and darted into the world of business.
The 37-year-old has launched his own clothing range, in conjunction with Mansfield-based firm Proskins, to coincide with the Rugby World Cup, which ends this Sunday with the final between hosts New Zealand, and France.
The company specialises in compression wear, tight-fitting athletic garments which keep muscles warm and are also said to aid circulation.
"It all started earlier this this year, when I was asked to trial compression clothing for them," he says.
"I was very impressed, like most people you are tired and your legs feel heavy post-exercise, but having these compression shorts on made a great difference.
"I got more involved with the company and ended up joining the firm."
'Varied role'
Although Mansfield-based Proskins specialise in fabric technology, it was not long before the topic of a Jason Robinson line of clothing came about.
And he is not the first to move into this business, with Fran Cotton's eponymous marque, and Franck Mesnel's Eden Park, just two well-known rugby union linked brands.
"During all the years I was involved in sport I often got given things to wear, but had no input into the items," says Robinson, who made the crossover from rugby league to union in 2000.
"What is good about Proskins, is that they have so many ideas and they want to get out there and my role is so varied.
"When we were in one meeting we spoke about a clothing range, about doing that some time in future.
"We did not realise how soon we would get into action. We spoke to a few retailers and they said they would like to take what we were doing on-board."
Soon a JR leisure clothing line, including rugby shirts, polo shirts, T-shirts and shorts, had been designed and created.
"It is not just about putting my name on something, I am really involved in this, and give input into the designs," he says.
"I never thought I would be looking one day at cloth weights and different types of cloth.
"It is is nice - it in the sports world, and it is a new challenge. As well as coming up with ideas, I am working with fabrics and designs, and other things in the background, as well as going to various meetings."
The business development has come at what is traditionally a tricky point in life for professional sports people - what to do when they retire?
Consistency
Robinson retired from club rugby in 2007, with a comeback in 2010-11, and from international rugby in 2005, with a comeback during 2007.
"When you finish you have a void and you need to fill that with something," says Robinson, a one-time hard drinker who is now teetotal and a born-again Christian.
"It needs to be something that is stimulating, and this business venture is that for me - it is a great opportunity and it takes me into uncharted waters.
"There is longevity in it. As a sportsman your career ends at 35 - it is fantastic but it is one time in your life."
He adds: "There is a crossover between business and sport, but you realise that more after you stop playing sport than when did when you were playing.
"Sport has provided the challenge to me over the years to be consistent, which is a help in business.
"Also, like sport, there is a lot of hard work."
And he says that working with Proskins, a firm which he says is making products suitable for people from all walks of life and not just sports people, has been an "education".
Among the avowed followers of the firm's products is Australian celebrity and X Factor judge Dannii Minogue.
In addition to his new-found career in sports and leisure clothing, Robinson is also an ambassador for HSBC, promoting rugby around the world
One career which he is unlikely to return to for quite some time, if at all, is coaching.
A one year stint in charge of former rugby union club Sale Sharks for season 2009-10, left the club escaping relegation and Robinson somewhat disillusioned.
"Coaching is fantastic if you are working with sports people," he says.
"But for me, I don't do politics, and I realised there was a lot of politics in high level sport, from people who I don't think have the best ideas."
'Fantastic experience'
After that came his one season back from retirement for Lancashire-based National League One side Fylde in season 2010-11.
He had a playing, as well as coaching and ambassadorial, role before hanging up his boots for a second time in July this year.
"Some people must have wondered what I was doing, going back to a local club, playing and helping out," he chuckles.
"But it was great to be encouraging and challenging people. I played full back, it gave me a great viewing platform, and I would bark at the players from the back."
Meanwhile, with the Rugby World Cup final looming on Sunday it must be hard for him not to look back to the greatest day of his playing career, almost eight years ago.
"Winning a World Cup has got to be the highlight," he agrees.
Having lost the 1995 Rugby League World Cup Final he was determined to be a winner and ended up scoring the only try of the 2003 final.
"What a fantastic experience it was - it inspired the whole nation, it was like 1966 again.
"For me, to have scored England's only try, was the icing on the cake."